Since our establishment, Empyrean Robotic Technologies is totally focused in serving you with the best quality products and services for contributing a small step in "Make in India Campaign" for maintaining a better autonomous world.
Shivesh Gaur
Founder & CEO
Shivesh is an experienced Chief Executive Officer with a demonstrated history of working in the aviation and aerospace industry. Selected & sponsored by Startup India & Invest India for various international delegations including to Expo 2020,Dubai,UAE in Jan 2022, where companies from around the globe had represented their respective nations and to SCO Unicorns,Tashkent,Uzbekistan, in June 2022, where top startups from 20 SCO nations had represented their countries. Also, he was sponsored for a business delegation to The Republic of Armenia in Nov 2021 as a "Subject Matter Expert (SME)" for Drones & Anti Drone Systems. Highly skilled in Entrepreneurship, Drones/UAVs, Robotics, Motivational Speaking, Start-ups, and Leadership and a strong techno-management professional graduated in Electrical & Electronics Engineering from Dr. A.P.J. Abdul Kalam Technical University (AKTU),Lucknow & post graduated in MBA from ICFAI University, Dehradun.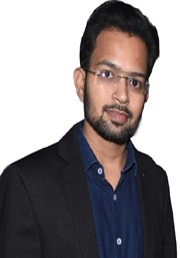 Krishna Garg
Co-Founder & CRO
Krishna is having a rich background of busniess and handling internal operations, finance & compliances of an organisation. Totally dedicated, for adding various new products in the company's product line by leading the team of operations with his expertise. A college drop out by choice for exploring the toatlly uncertain and most challenging journey of entrepreneurship at an early stage of life can define his risk taking ability by which he managed to achieve various heights.