Since our establishment, Empyrean Robotic Technologies is totally focused in serving you with the best quality products and services for contributing a small step in "Make in India Campaign" for maintaining a better autonomous world.
Shivesh Gaur
Founder & CEO
Shivesh has completed his B.Tech in Electrical & Electronics Engineering from United College of Engineering & Management, Allahabad in the year 2016. During his course, for an international internship from IIT Bombay, he was certified as the \"Robotics with Machine Vision Engineer\" from Robotics and Computer Application Institute-USA. He has also served his college team of Robotics for three consecutive years as a Team Leader for more than five national and international level events of Robotics and UAVs and has also played a key role in the establishment of the Innovation Center in his college.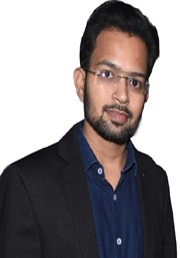 Krishna Garg
Co-Founder & CRO
Krishna has dropped his college studies from United College of Engineering & Management, Allahabad, after completing his two years of B.Tech from Computer Science and Engineering in the year 2014. After dropping his studies he opted for starting his business and presently he is having the Distributorship of an Online Money Transfer Company and the Co-Founder of Empyrean Robotic Technologies and working as the Chief Risk Officer.